The year has started and with January already gone by, it is high time to talk a little about the year that passed.
After uncertain and turbulent years all over the world, we were again able in 2022 to be present Octagon at several trade fairs in Colombia, Poland, Brazil, Mexico and Germany. We would like to thank all our visitors very much.
In particular, we would like take this opportunity to thank everyone who visited our stand at the K'22 in Düsseldorf/Germany, the number one fair in the plastics industry. They were incredible days, intense and full of news.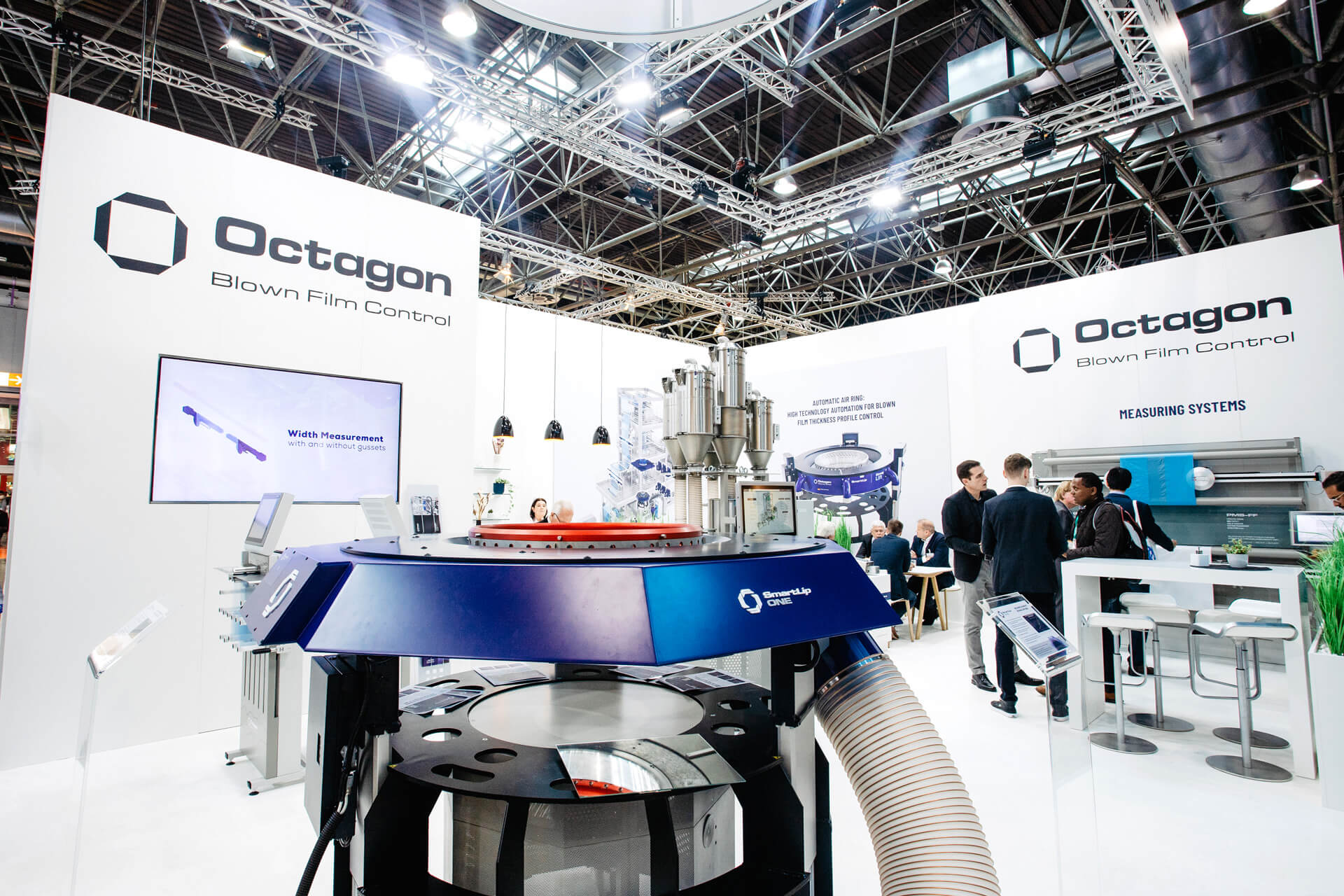 At the K'22 we were able to present our latest product, the SmartLip ONE, for the first time. Captivating by its amazing design, one single air inlet, patent pending, integrated insulation, easy to operate and robust, our new air ring offers a significant increase in production, improved thickness tolerances, less condensation and low pressure consumption.
The SmartLip ONE is equally suitable for both new lines and for retrofitting existing extruders. With adapters specially supplied for the die-head of the customer's extruder, the original air ring can easily be replaced by the SmartLip ONE and expanded with other Octagon control systems.
Another novelty presented at the K'22 show was the new version of our gravimetric dosing system, the SmartGDS. Combining high technology with market requirements, SmartGDS offers gravimetric dosing, extruder control and raw material loaders with high precision and reliability. And all this is only possible by means of precise dosing with guaranteed constant percentages of the additive components.
With our SmartGDS the advantages range from improved film quality, reduced costs and process automation to the new HMI (Human Machine Interface) with touchscreen and modern visualization based on web technology. In addition, SmartGDS is prepared for Industry 4.0.
More information on these and other Octagon products will be available soon in our website. Follow our next NEWS and stay tuned in everything Octagon has been doing.
Finally, we would like to thank all our employees – who, year after year, are doing their best for Octagon to continue growing and innovating. Without their dedication, none of this would be possible.
To our customers, partners, suppliers, representatives and friends and to those who have been and are still involved in the history of Octagon, our immense gratitude for all your support. Let's keep counting on you!
We are ready and looking forward to the remaining year 2023. Octagon is continuing to work hard, always on the lookout for new ideas and smart solutions to reduce costs and increase production – to help rapidly transform the plastics industry and protect the environment. There is a lot more to come!
Our aim will continue to be the presentation of excellent products with the ambition of being the best in the world.
And if you are already an Octagon customer or interested in becoming one, feel free to contact us. We are available to help you with anything you may need and answer any questions regarding our equipment and systems.
We will be happy to be a partner of your company.
We are sure to have the solutions your company is looking for.
Team Octagon.